Health Forms
(Email sent to all families June 2017)
Dear BB&N Families,


It is time to fill out the following important school forms for the 2017-18 year. As a reminder, you now update almost all of your information online. Our forms include:

1) Family Information Form (all students)
2) Health History Form (all students)
3) Grandparent Form (all students)
4) Children's Online Protection Privacy Act, or COPPA (newly enrolled 4th-7th graders)


The first two forms are required by the School in order for students to participate in any BB&N activity at the start of the coming school year. Please carefully review, revise (as needed), and enter the necessary information on the forms, and submit the completed forms by JUNE 15. Please note that another important form, the Athletics Pre-Participation Form (for grades 6-12), will be sent later this summer.
Login
to the parent portal to access the School Forms page within the password-protected "My BB&N" portal on the school website (
see detailed instructions below
). As a reminder to new families, your username and password are the same ones that are used for online billing through MyBackpack (
username=first 3 letters of first name followed by last name--all lowercase, no spaces
). There's a "forgot username/password" link on the login screen if you need it. Also, please feel free to contact
webmaster@bbns.org
if you encounter problems accessing the School Forms page.
----------------------------------------------------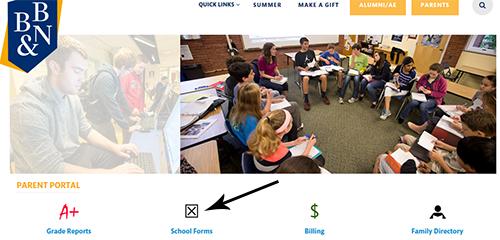 ----------------------------------------------------
Important note about health records:
Although the BB&N health history form is filled out online by parents, we still must receive the following two physician forms on paper for each student (before school starts for new students, or by anniversary date of previous exam for returning students):

a) Verification of an annual physical exam
Student physical exams are valid for one year from the date of the previous exam. It is required that an updated physical exam form be submitted at the time of the annual exam in order for the student to continue participation in BB&N activities.

b) Up-to-date immunization record
Please click here to download a PDF that describes immunization requirements for all students attending BB&N during the 2017-18 year. New students will need to provide a full immunization history. Returning students need only to update their immunization history. (Parents, pay special attention to students entering Kindergarten and Grade 7, as these are checkpoints in a student's career where the requirements may change.)

To facilitate the process of receiving these necessary records, please be sure to contact your child's primary care provider as soon as possible and request an appointment for their annual physical examination well in advance of the child's one-year anniversary date.

To submit these two paper forms, please:
email scans to: healthforms@bbns.org
or fax to: 617-649-8045
or mail to: BB&N Health Services, Attention Nurse, 80 Gerry's Landing Road, Cambridge MA 02138

Thank you in advance for your prompt attention to these important documents, and we wish you a safe, healthy, and happy summer ahead. Please let us know if you have any questions.

Sincerely,

Kimberly Gold (health form questions)
Director of Student Support Services,
617-800-2227
kgold@bbns.org
Serge Mathieu (family information form questions)
Registrar
617-800-2716
registrar@bbns.org

Demetri Orlando (technology/login questions)
Director of Information Technology
617-800-2750
webmaster@bbns.org